Leggo Airships
Version:

1.0

File Size:

5.1 MB

Type:

Author:

Group:

Rating:

Downloads:

1748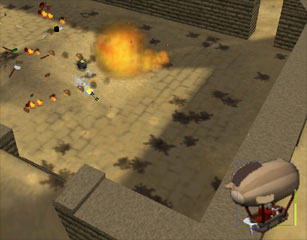 The Airship from Rohan's insanely excellent Leggo My Myth map is such a cool unit that I decided we just had to have it as a standalone plugin - and luckily with Patch 1.5+ we can.
While I was at it I decided to create a plethora of variations on the original (and highly underused) Leggo wind-up duck. After TONS of tweakage you can now enjoy various ambient mini-wind-up ducks (for deer, frogs, pigs), a GIANT wind-up-duck for Assassin games (substituting for the Baron), and the dreaded Duck Bomb - a hilarious alternative to the Wight (just remember he can be healed normally) - all with accurately scaled body parts and sounds.
We've played over 100 games with Airships and they're not only fun but tricky to master. PLUS I tweaked them so they can be combined seamlessly with Trebuchets and the Leggo III Tagset.
See the included readme for complete instructions on using Airships and how to substitute for multiple unit types
© 2005 - 2022 the tain