Triskelion
Version:

1.0g

File Size:

6.3 MB

Type:

Author:

Group:

Rating:

Downloads:

1423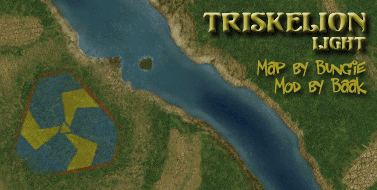 My major mod of Bungie's "lost map" Cryptic Wightings inspired by The Gamesters of Triskelion, a Star Trek TOS episode.
Interesting and Unique Features:
A huge map extended completely to raised edges with waterfalls at river sources, making it appear you are in a giant arena
Completely reworked terrain and water throughout
All new maps/units including unique 3-starts-each "intertwined" team maps, large team maps, 6- and 3-start FFA's
Dark moonlit night maps with eerie ambient effects
Unique and challenging flag/ball layouts on all maps
Special Scavenger Hunt Balls 6 to 9 - and Ball "X" - plus an all new game type: True Scavenger Hunt
Ball launchers for Bacon/Captures/Scavenger Hunt
King of the Hill Equalizers
Reworked Bungie Swineherd hunting targets (very skittish - meant for RDF - fun to play solo!)
Truce Off Sirens for RDF/UGR/Trebuchets
Easter Eggs and more!
Full details in the included Triskelion Readme, which is also available on-line here.
© 2005 - 2022 the tain