StoneHeart RDF
Version:

4.1g

File Size:

13.2 MB

Type:

Author:

Group:

Rating:

Downloads:

1795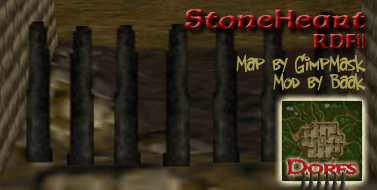 Update v4.1g - Completely revamped Rumble maps plus lots of minor enhancements including 100% compatibility with my Anywhere multiplayer plugins. Enjoy! --Baak ****
A major mod of GimpMask's excellent Return to StoneHeart (used with permission). We play everything on this baby.
Interesting and Unique Features:
Maps where players start outside and fight their way in; maps where players start inside and must fight to stay alive!
Large selection of Team/FFA maps (2,3,4,6,8,16 starts)
Unit trading based on difficulty setting for lots of variety (see readme), while keeping all teams equal at all times
Randomly rising/falling gates on two "inside" maps (Frenzy/Cage) for a gaming experience like no other
Reinforcements on inside maps even if you die early
Strategically placed breakaway walls for explosive units
Unique and challenging flag/ball layouts on all maps
Wrath of Baak to keep players from attacking early "inside"
Special Scavenger Hunt Balls 6 to 9 (and Ball "X"), plus an all-new True Scavenger Hunt game type!
Ball launchers for Bacon/Captures/Scavenger Hunt
Single unit Assassin games for conversions (RDF/WWII)
Great for RDF and just about every conversion under the sun
Truce Off Sirens for RDF/UGR/Trebuchets
Hilarious Mini Peasant™ hunted units on outside maps
Easter Eggs
Full details in the included StoneHeart RDF Readme.
© 2005 - 2022 the tain